Live agents on stand-by!
Need a car on the go? You can pick up one of
our awesome rental cars in just 5 Minutes!
---
First in

Canada

Virtual LiveAgents

Till 9PMDaily!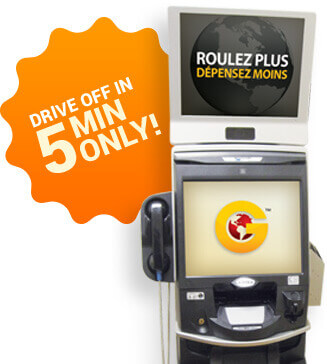 Our Kiosk Solution increases inbound traffic, offers on-site mobility services to existing tenants and fills up parking garage vacancies to increase utilization of space. If you are interested in installing our car rental solution on your property, feel free to contact us.
Our vehicles & awesome staff are waiting for you.
A first in Canada – Globe Kiosk enhances your property by providing on-site car rental solution. With a 2 feet X 2 feet footprint, easy plug & play – we can get this up and running very quickly. We would be happy to discuss having this car rental solution on your premises.
Advantages
Service 7/7 till 9PM every night

Increase visibility and traffic to your building

Increase utilization of your parking spaces

Increase revenue without leasehold construction

Attract would-be tenants from nearby buildings

Offer tenants on-site car rental service

"Real" car rental agents on standby

Partner with a technologically advanced company