Real live agents on stand-by!
Need a car on the go? You can pick up one of our awesome
rental cars in just 5 Minutes!
Are you tired of car sharing… Getting into a dirty car?
---
First in

Canada

Virtual Live

Agents

Till 9PM

Daily!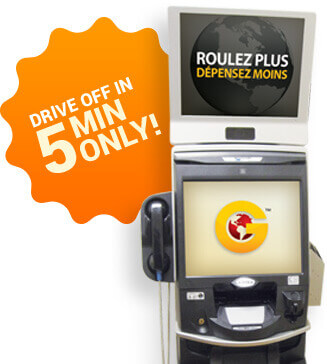 A faster, easier way to rent a car!
With or without a reservation…
Our vehicles & awesome staff are waiting for you.
What do you do after 6:00 PM when you need help renting a car or have a question and everyone else is closed? Our car rental specialist are there during extended hours till 9:00 PM – 7 days a week! Our repeat clients are surprised to see how easy it is to pick up a car using our kiosk. Returns are even easier, just drop the key in the drop box and Go! Inspections are done by our agents and reported back to you within 24 hours – usually much less. Unlike car sharing: A new and clean auto rental is always waiting for you! Once you have used it once, you will love it every time you need to hire a car.
Advantages
Open 7/7 till 9PM every night
All International Drivers License accepted
Interact with a "Real" live agents
Get answers & support to your needs
Get the rented car on the road quicker
Pick-up and return keys in 5 sec. tops
Evaluate the service/agent every time
Environmental friendly – small foot print